Briana Ratliff, Veterinary Assistant
Brianna joined our team in October 2016, when she moved back home after being stationed at Fort Riley, Kansas while her husband was in the military. They now live in Alderson with their 2 beautiful girls and 4 dogs and a cat. She is highly valued by the staff for her dedication and passionate love for veterinary medicine. She excels at giving our clients an unforgettable experience and the best care possible to their pets. Not only is she a hard worker, but her positive personality and humor maker her a great team member to work with.
---
Haley Hodges, Veterinary Assistant
Haley became involved in veterinary medicine while serving with the military, and joined our team in February 2018. She has always had a deep love for all animals and she feels that they are more than simply pets, they are a part of our families. Haley believes that the greatest reward of her job is improving the quality of life for our patients so that they may have more time with their families. She lives in Ballard with her husband, Kyle, daughter, Isabella and numerous pets. We all consider her to be a wonderful addition to our staff.
---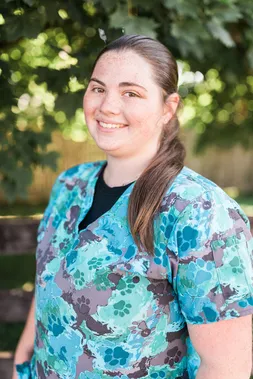 Brittany Bevins, Veterinary Assistant
Brittany joined our team in August of 2019 as a kennel technician. Her work ethic had her quickly moving into a position as a veterinary
assistant, where she was trained to assist with appointments. Brittany's newest role is learning to assist as a surgical/hospital technician, aiding with dental and surgical procedures and hospitalized cases. Her can do attitude and easy laugh have made her a favorite among client and staff alike. She lives in Quinwood with her dog Jack.
---
Raven Clutter, Veterinary Assistant
Raven joined our team in July of 2021, coming to us with a lifelong love of animals. She is continuing her career in veterinary medicine with us, and feels proud to be a part of a team that she calls knowledgeable and professional. She is continually learning new facets of medical care, which she can use as an advocate for her own pet, a Rottweiler/Lab mix named Puppy, and with our patients as well. Raven is calm and caring, and a wonderful addition to our staff.
---
Dustin Torrence, Veterinary Assistant
Dustin grew up in Amissville, Va just outside of Shenandoah National Park. He studied Anthropology and Psychology at George Mason University. He began learning about veterinary medicine while working as a kennel assistant in Fairbanks, Alaska. Dustin has always had an interest in both animals and medicine and we were lucky to have him join our team in August 2020. He feels that it is most important to ease the stress of both pets and their parents by treating every animal that stays at Fairlea Animal Hospital as if they were his own. In his spare time Dustin likes to run, hike, snowboard and play soccer. He currently lives in Lewisburg with his wife Liz, two cats Oliver and Harper Lee and their new puppy Freyja.
---
Ashley Ferrell, Veterinary Assistant
Ashley Ferrell joined our team in June of 2022, following a cross country move. She has previous experience with marine mammals as well as with dogs and cats. Ashley believes that the bond between our doctors and their patients is based on how deeply Drs. Tomlinson, Hinson, and Cherry care for our furry clientele, and the transparency they have in educating clients about what treatments are available for their pet's needs. She loves to hear positive feedback from clients while out and about in the Greenbrier Valley. Ashley feels that educating owners about preventative care is one of the most positive impacts we can have on the day to day health of our patients.
Ashley lives in Lewisburg with her Siberian Husky, Mako.
---
Molly Harbaugh - Veterinary Assistant
Molly joined our team in October of 2022, coming to us from Maryland. Molly is new to veterinary medicine, but is learning quickly in all facets of our clinic. Molly enjoys seeing the bond between owners and their pets, especially how treatment makes a pet feel better, which gives great relief to our clients. Molly lives in Renick with her fiance and their dogs.
---
Jaelyn Furnas, Groomer - Kennel Technician
Jaelyn came to us in April 2022, following a cross country move from Oregon. She has a lifelong love of all furry creatures which shows in her work. She is frequently found giving extra attention to those who are here for boarding and grooming. She practices this love at home too, where she lives with two dogs, 4 cats, 2 lizards, a ferret, and a flock of chickens. Jaelyn loves to see a dog or cat, freshly groomed, showing how much better they feel. She is proud to be a part of the Fairlea Animal Hospital team, and calls our doctors and technicians thorough, understanding, and patient.